For release on 17 November 2020
PRESS RELEASE
THE SOMMELIERS HAVE SPOKEN! 
William Wouters elected president of ASI, the Association de la Sommellerie Internationale
17 Nov 2020. William Wouters of Belgium has been elected the new president of the Association de la Sommellerie Internationale. The vote was held as part of the organization's annual General Assembly. Wouters is already a well-known figure within the organization, as an ASI Board member, national president, and sommelier contest competitor. Upon hearing the results, he said, "What's important now is to work together toward the betterment of ASI as a community and as an institution. My team and I are ready!" Wouters replaces outgoing president Andrés Rosberg of Argentina, whose three-year term began in June 2017.
Wouters will be joined in his three-year term by a restricted board filled with old and new faces. Peer F. Holm was selected as the ASI Secretary General, Julie Dupouy-Young as the ASI Deputy Secretary General, Philippe Faure-Brac as ASI Treasurer and Samuil Angelov as ASI Deputy Treasurer.
A full slate of vice presidents was also elected: Saiko Tamura-Soga (Japan) for Asia & Oceania, Michèle Aström Chantôme (Morocco) for Africa & the Middle East, Piotr Kamecki (Poland) for Europe and Marcos Flores Tlalpan (Mexico) for the Americas. ASI vice presidents are primarily responsible for coordinating the associations in each continent or geographical area.
Due to the Corona pandemic, the ASI General Assembly was held fully online for the first time. Two electronic platforms, one for the meetings and another more secure platform for voting, were used for the event. A qualified attorney was on hand in Cyprus, the "host nation," to ensure that the online version was in compliance with the organization's charter. A neutral moderator guided participants through the events, presenting the candidates and issues in French and English.
The GA also featured presentations from its various committees, including PR, Communication & Marketing, Ethics & Compliance, Sommeliers Contests Committee, Education, Certification Exam, and By-Laws. Detailed information on those presentations and related votes can be found on the ASI website at asi.info.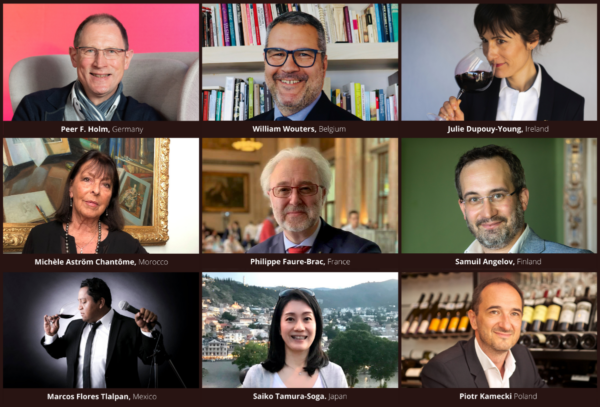 Pour diffusion le 17 novembre 2020
COMMUNIQUÉ DE PRESSE
LES SOMMELIERS ONT PARLÉ !
William Wouters, président de l'ASI, Association de la Sommellerie Internationale
17 novembre 2020. Le Belge William Wouters a été élu nouveau président de l'Association de la Sommellerie Internationale. Le vote a eu lieu dans le cadre de l'Assemblée Générale annuelle de l'association. Wouters est déjà un personnage  bien connu au sein de l'organisation, en tant que membre du Bureau de l'ASI, président national et concurrent aux concours de sommeliers. En entendant les résultats, il a déclaré : "Ce qui est important maintenant, c'est de travailler ensemble à l'amélioration de l'ASI en tant que communauté et en tant qu'institution. Mon équipe et moi sommes prêts !". Wouters succède au président sortant Andrés Rosberg d'Argentine, dont le mandat de trois ans a débuté en juin 2017.
Wouters sera rejoint dans son mandat de trois ans par un Bureau exécutif composé d'anciens et de nouveaux visages. Peer F. Holm a été choisi comme secrétaire général de l'ASI, Julie Dupouy-Young comme secrétaire générale adjointe de l'ASI, Philippe Faure-Brac comme trésorier de l'ASI et Samuil Angelov comme trésorier adjoint de l'ASI.
Une liste complète de vice-présidents a également été élue: Saiko Tamura-Soga (Japon) pour l'Asie et l'Océanie, Michèle Aström Chantôme (Maroc) pour l'Afrique et le Moyen-Orient, Piotr Kamecki (Pologne) pour l'Europe et Marcos Flores Tlalpan (Mexique) pour les Amériques. Les vice-présidents de l'ASI sont principalement responsables de la coordination des associations dans chaque continent ou zone géographique.
En raison de la pandémie de Corona, l'Assemblée générale de l'ASI s'est tenue pour la première fois entièrement en ligne. Deux plateformes électroniques, l'une pour les réunions et l'autre plus sécurisée pour le vote, ont été utilisées pour l'événement. Un avocat qualifié était présent à Chypre, le « pays hôte », pour s'assurer que la version en ligne était conforme à la charte de l'organisation. Un modérateur neutre a guidé les participants tout au long des événements, en présentant les candidats et les questions en français et en anglais.
L'AG a également présenté les travaux de ses différents comités, notamment les Relations Publiques, la Communication & Marketing, l'Éthique & Conformité, la Commission Concours de Sommeliers, l'Éducation, l'Examen de Certification et les Statuts. Des informations détaillées sur ces présentations et les votes y afférents sont disponibles sur le site web de l'ASI à l'adresse asi.info.